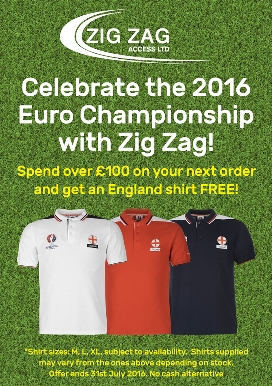 While qualifying for the Euros 2016 was a nail-biting process for football teams across Europe, it's incredibly easy to qualify for July's special offer at Zig Zag Access.
Step up to the centre spot at our conveniently situated Leeds store July 2016, and if you spend just £100 in a single transaction, we'll send you on your way to victory with a genuine FREE Euro 2016 England shirt along with the contents of your order.
Whether you're a wannabe striker, midfielder, defender or goalkeeper, Zig Zig Access can kit you out with a free Euro 2016 England shirt that fits you perfectly. We have M, L, and XL sizes available in a choice of three different colours – white, red or blue – although please be aware that these are subject to availability. All you need to do to tackle this football-themed free gift is make a single transaction of at least £100 (N.B. £100 minimum order excludes VAT) at Zig Zag Access – the Number One scaffold and low-level access specialist in Leeds – by 31st July 2016.
Competitive prices and free delivery
Because our products are priced so competitively, you'll be pleasantly surprised by how far your money can go when you hire or buy scaffold and low-level access equipment from our Leeds depo. And, to help you get the most out of your Zig Zag Access experience, we even offer a free 3-working-day delivery service within a fifty-mile radius of our store on Gelderd Road, Leeds. If you live or work further away and you wish to hire equipment, you can either collect your products from our depot or arrange delivery from as little as £10 each way.
Another way we can help you get excellent value-for-money is through our exclusive special offers.
Every month, we choose one of our most popular products and shave a considerable amount off its retail price, allowing you to grab an amazing bargain. Some months, we even apply discounts to multiple products. However, as our special offers are time-limited, you'll have to act fast if you want to take advantage.
Because we're a key supplier of companies and contractors all across West Yorkshire (and often beyond), each of whom have different hire and sales needs for scaffold and low-level access equipment, we make sure that our special offers are designed to suit a wide range of requirements. For example, one month, we might offer you the opportunity to trade-in your old ladder for a shiny, new one at a reduced cost, and another, we might plunge down the price of professional hop-up platforms.
Furthermore, just because we like to drop our prices from time-to-time doesn't mean that you'll receive anything but the best-quality products.
Find out more about how Zig Zag Access can help keep you supplied with scaffold and low-level access equipment on a hire or sales basis by visiting our Leeds store, online shop or applying for a trade account today.